The Girl Who Cut the Moon in Half
Original story by Anna Rogers
Script adaptation by Matt Harper and Anna Rogers
Directed by Matt Harper
Upstage Centre Youth Theatre, York
20th-22nd March 2013
Mildred Snatcher cut the moon in half,
One chilling Wintered night.
She did it accidentally,
In a dreadful, dreadful fright.
Captioned as a 'Victorian Gothic Aesop's Fable', this performance will be the product of a very fresh and exciting project for Upstage Centre Youth Theatre. Matt Harper (Director) has worked with local writer and actress Anna Rogers to take her original poetic tale of greed, selfishness and the night sky and transform it into a dark ensemble performance for the members of Upstage Centre Youth Theatre.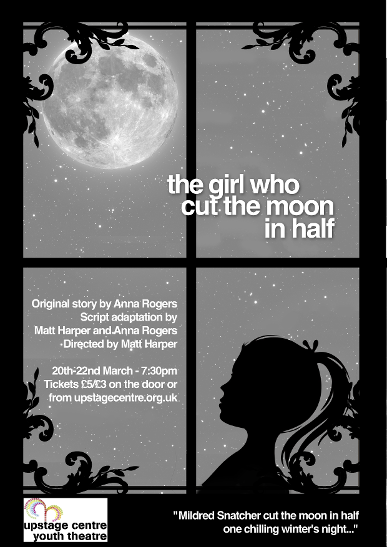 Following on from last terms sell out run of 'Alice's Adventures in Wonderland' Upstage Centre Youth Theatre are becoming stronger and stronger with every project, pushing their artistic ingenuity whilst always remaining an inclusive and thoroughly enjoyable place for young people to learn about and create theatre.
Matt Harper says " Not only has it been great to work with Anna on her captivating children's story, but it was extremely refreshing to be able to tailor the story to really accommodate for the eclectic and imaginative nature of our cast of 20. Just half way through the project and already the cast are questioning and experimenting with the new skills they have learned, such as Epic Theatre and Kabuki; they are really taking an inspiring ownership over it's direction. I already have goosebumps at the thought of the final product!"
None of this could be possible without the unfaltering support and hard-work of the charity's volunteers, who Matt would like to personally thank.
This is certain to be an extremely unique performance by a truly unique team.
One cast member, who has been with the youth theatre for a year describes this project as 'a play about a girl stealing the moon, where the cast members are really reaching for the stars'.
Harper creates visually stunning work, that plays to the strengths of all his young actors. Nobody is left appearing underused, and everybody appears to have taken on a positive creative challenge. He creates opportunities for the young people to test their skills, to push themselves and to put their own creative stamp on their performances, which really pays off. This production is no exception, and the whole team, cast and creatives alike, have every reason to be proud.
The truth is that some of the Youth Theatre shows I have seen recently have completely outshone those of other, older companies. Some professional, some not, and two of those productions, worthy of a paying public audience that extends beyond relatives, were produced by Upstage Centre.
One and Other, York
For the full review CLICK HERE