SUPERSPAZ!
An overview
This new and exciting performance explores very current issues which surround the culture of theatre today, in terms of how it operates and how the ideals held within the industry can have a massive impact on the way people are viewed. This vibrant and honest production incorporating dance and autobiographical aspects, illustrates the positioning and challenges of disability within:
· The 'art cultures' that are rife with ideals and the upholding of them; mainstream pop, mainstream celebrity, Shakespeare, musical theatre to name put a few.
· The new wave of media wanting to portray truth and diversity; reality TV and dedicated documentaries filming the weird and wonderful people of our time.
In a world that takes a fondness to the ability of labelling keeping us safe from uncertainty, where would a body like mine (one which isn't perfect enough to be 'papped' nor astonishing enough to be analysed by Channel 4's Cutting Edge) fit in?
Its context situates it too in the discourse around inclusive theatre and the titles of 'disabled artist' Vs 'artist with a disability'.
What you will see...
Can a disabled man ever reach the aesthetics of 'celebrity' and promote its gossip column culture?
Can pride ever come from a physical impairment?
Can we see bodies as bodies, not as preconceived labels?
The story is a documented struggle of myself as someone with a physical disability trying to find my 'positioning' within forms of theatre that have gained elevated, historical prestige, from the board-treaders of Shakespeare to the über glam catwalkers of modern fashion. Fuelled by humour, pride and ambition, Superspaz fades between scenes of glamour and stardom struck by fame, and the stark ugliness of disability history (freakshows etc).
Placing myself into the unconventional spotlight aims to question the audiences perception of disabled talent; could my body be as iconic as Madonna in Vogue? We've all seen Shakespeare being hammed up, but could Hamlet ever be 'spazzed' up? To what degree does disability need to be masked in order to be successful, or will an audience be disappointed if they expect to see a freak and I am not 'disabled enough'?
These elaborate, extremely visual scenes are interspersed with honest revealing monologues that discuss the stigmatic infringements that are parallel in my personal life; hiding my cerebral palsy for an audition, becomes reflective of me making a first impression on a potential partner, the calls of the paparazzi are replaced by physiotherapy instructions.
This aims to give people a different look at 'different' people, but overall to emit positivity and have an uplifting outlook.
Haven't we learned anything from the Barbie Syndrome? You would think we would have learned to make our culture more accepting of natural physiques. (Liepe-Levinson. 2002:97).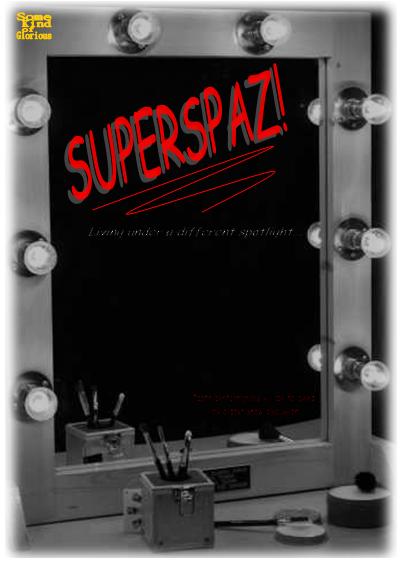 "An intelligent, insightful and skilful performance [that tackled] the slightly ashamed, furtive and vicarious gaze of the non-disabled toward the disabled. The freak shows have gone, but the gaze will remain. [Harper's] work will inspire people to work with and trust all involved" - Dr Nick Rowe, Senior Lecturer. York St John University.
N.B. The recordings are of the first public performance in 2010, the piece has since been developed and was presented with a post show discussion.