Work with the amazing Six Lips Theatre.
Hooked
Bar Lane Studios, York.
Fri 23rd September 7:30pm– Sat 24th September 2:30pm and 7:30pm 2011.
Tickets; £5.00 for adults and £3.50 for concessions
available from York Theatre Royal 01904 623568 or online www.yorktheatreroyal.co.uk.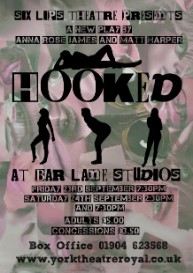 Our Next Big Thing. A scrapbook romance assembled with loving kisses and knowing looks from Six Lips' Anna Rose James and local performance artist Matt Harper.
Carrying superhuman secrets like leopards with cubs in their mouths, they walk among us unnoticed, appearing to be just the same as every other woman. Before you know it, it is too late; their toothbrush is magically next to yours, in the blink of an eye they have cleared a wardrobe shelf for their belongings. Their senses are heightened, emotions supersonic and responses lightening-fast and thunder-filled. These are no ordinary women – These… Are the Girlfriends Past…
Doused in a healthy dose of Anna's usual ironic cheek and offset by Matt's painfully sexy comic writing, this is a one-woman show not to miss. A Jammy-Harpy production.
Person-In-Law
Written and Directed by Matt Harper
Friday 27th - Sunday 29th January 2012. 7:30pm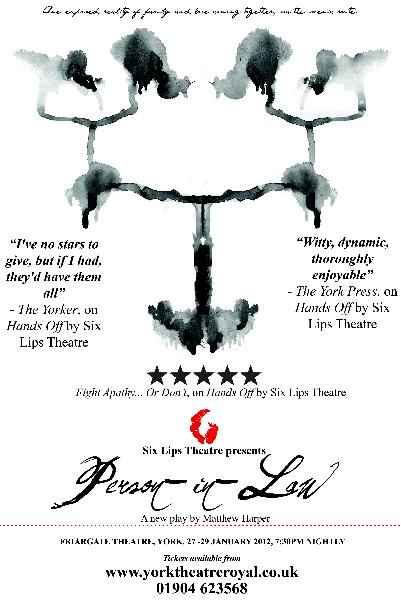 ...Love is Love...
Another original script, taken on by Six Lips Theatre, Person-In-Law is an incredibly gentle, articulate piece that deals with the taboo subject of genetic sexual attraction in such a way that seems to pat the viewer on the hand as it drifts through surreal, beautiful scenery back to the natural. One reality of family and love coming together, via the scenic route.
CAST:
Vanessa Bellamy - Beryl Nairn
Clara Rushford - Victoria Delaney
Ewan Gallic - Stu Freestone
Steven Rushford - Wayne Ewart
Them - Anna Rogers
Female Swing - Beth Fuller
It is clear from this show that Harper is a talent to watch. His script is a revelation – a restrained and mature exploration of an incredibly difficult subject matter, with standout moments of acerbic wit and bittersweet poignancy...
once again Mr Harper, as director, is able to bring his story to life in a slick and efficient fashion.
Fight Apathy... Or Don't
Matt Harper is a gifted creative, there is no question about that. As a writer he has a message to say and a way to say it. There is a distinctive stamp on his work which I can only imagine will propel him forward in the industry...
it is remarkable that one writer and one play can spark such a debate - and for that Harper should be applauded.
The script itself is a credit to Harper's ability as a playwright...
the support of Harper's good direction was also clear.
All in all a clever and poignant script from Matt Harper (a name I would strongly recommend looking out for) created an evocative, intelligent piece of theatre. The collaboration between Harper and 'Six Lips Theatre' will hopefully have more in store for the future, as they complimented each other beautifully.
As part of Six Lips Theatre's six shows in six months.