Alice's Adventures In Wonderland
Upstage Centre Youth Theatre, York.

An original adaptation of Lewis Carroll's famous books by Ian Forrest (Theatre by the Lake) with new music from Joshua Goodman.
Director: Matt Harper
Musical Director: Joshua Goodman
Choreographer: Kim Allan Whitmarsh
Performance Dates : 5th - 8th December 2012
It's Oxford1865 and in a quintessential Victorian garden party Alice finds herself jaded by an adult world that does not make sense to her; books without pictures, card games with too many rules and a talking white rabbit with a pocket watch...wait.
"Curiouser and Curiouser"
Follow Alice down the rabbit hole into a land that makes the unfamiliar look familiar and turns madness into logic. This retold classic has all the characters you know and love from the Mad Hatter to The Caterpillar, The Queen of Hearts and The Cheshire Cat, but with the added magic of a beautiful new score and a hand crafted concept and design.
A story of a young girl growing (and shrinking) and finding her own way into the adult world around her.
This production promises to give you a look Through the Looking Glass to see something you weren't expecting....
Follow you heart...but don't lose your head!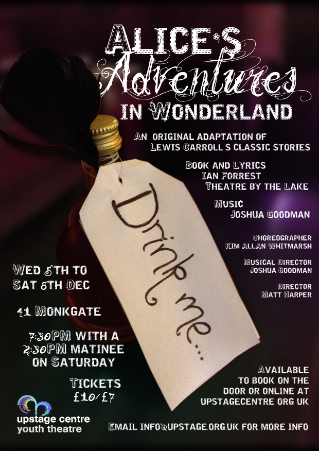 "A Wonderland of a story (very complex) which [was] made accessible, magical, funny and gripping...Complete immersion in a surreal fantasy world, surrounded by delicious (and off-the wall) sounds and songs."
YSCP
"one of the most enjoyable pieces of young people's theatre I have ever seen."
One and Other, York
For the full review click HERE