Book by Sue Townsend
Directed by Matt Harper
22nd, 23rd and 24th March 2012. 7.30pm 2012
41 Monkgate, Upstage Centre Youth Theatre, York.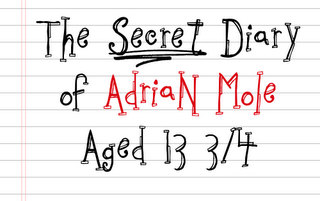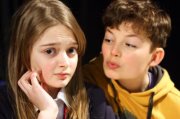 MATT Harper is directing Upstage Centre Youth Theatre in the stage adaptation of Sue Townsend's internationally bestselling book The Secret Diary Of Adrian Mole at 41 Monkate, York, from Thursday.
In his secret diary, teenager Adrian Mole excruciatingly details every morsel of his turbulent adolescence, from daily spot reports to heartrending passages about his parents' chaotic marriage: ideal material for a youth theatre production.
"This year marks 30 years since the publication of the book, but the story of Adrian Mole is timeless and the content is just as relevant as it was then," says Matt, who also directed Upstage's previous show, Honk! The Musical, last December.
Although Upstage usually runs separate acting, dancing, and singing classes, The Secret Diary Of Adrian Mole has called up many of the young members to come together to perform.
"Our cast includes young performers aged from eight to 17, while the script includes eccentric parents, dysfunctional neighbours and outspoken OAPs up to the age of 89," says Matt.
"The company's enthusiasm, commitment and creativity in creating the array of characters have been extremely rewarding to direct."
Review: York Press
Upstage Centre Youth Theatre's spring production last Thursday to Saturday was a stage adaptation of Sue Townsend's book, The Secret Diary Of Adrian Mole.
Although the protagonist, Adrian Mole, played by William Gibbon, is just 13 ¾, the content of the book is decidedly mature, raising doubts about whether this could be pulled off by the youthful York cast.
It was to the cast's credit that they made proving those doubts wrong so delightful to watch.
The candid delivery of Sue Townsend's adult characters by young actors was as comic as it was startling, with many of the actors portraying adults more realistically than adults themselves.
The roles of Mrs Mole (Georgie Bryan), Mrs Lucas (Georgia Gargan) and Mr Lucas (Harry Leaf) were particularly well played, the dry wit of the lines captured perfectly by the respective actors.
Will Gibbon conveyed the adolescent awkwardness of Adrian, very well and acted as the lynch pin to the show, confidently handling the lead role.
The star turn, however, was Ebony Hiley's precocious Pandora. The confident, diva-esque performance was faultless, giving an impressively precise portrayal of a headstrong teen girl.
It was thanks to a strong ensemble cast that the play was as much about the friends and family of Adrian's childhood, as it was about Adrian.
This funny, heart-warming show had you laughing, as well as marvelling, at the talent and promise of this young cast.